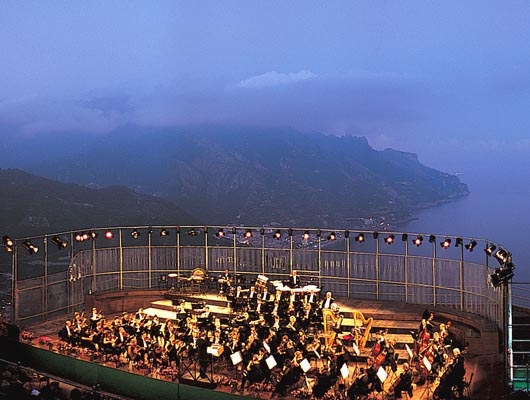 Since 1953 in the gardens of the Villa Rufolo of Ravello where Wagner found his "magic garden of Klingsor", takes place a prestigious Musical Festival, that starts in early April and goes on 'til the middle of November.
The current Ravello Festival derives from a series of previous initiatives which make it the oldest of the Italian festivals after the Maggio Musicale Fiorentino.
Girolamo Bottiglieri and Paolo Caruso are to be attributed with the idea of the cultural event which, more than any other thing, has contributed towards building the identity of Ravello as a "Città della musica".
The association of Wagner's name with Villa Rufolo, a place made splendid and welcoming by the Scottish philanthropist Francis Neville Reid, was too tempting not to suggest the idea of holding concerts at this site, blessed, besides, by the great composer in person. Thus, in the 1930s the orchestra of the San Carlo Theatre in Naples played a couple of times, with a programme connected to Wagner.
ATTENTION: Ravello Chamber Music Concerts are arranged by two different companies with two different programmes.
The programme shown below is the RAVELLO CONCERT SOCIETY one. Our reception is happy to offer assistance for your reservations. Advanced booking is not necessary, tickets will be available at the reception directly and the cost is Euro 27,00 per person.
Also, the hotel reception offers a special roundtrip shared transport in a comfortable Mercedes, exclusively for Ravello concerts, at the cost of Euro 70,00 per couple (instead of Euro 140,00) with departure from the hotel at 8:30 PM.

Regarding the other arrangement company of special events "RAVELLO FESTIVAL" advanced book is necessary.
For reservations please use the website http://www.ravellofestival.com/ or contact our reception staff directly specifying the date of the concert you are interested in and your credit card details.
RAVELLO CONCERT SOCIETY - 2019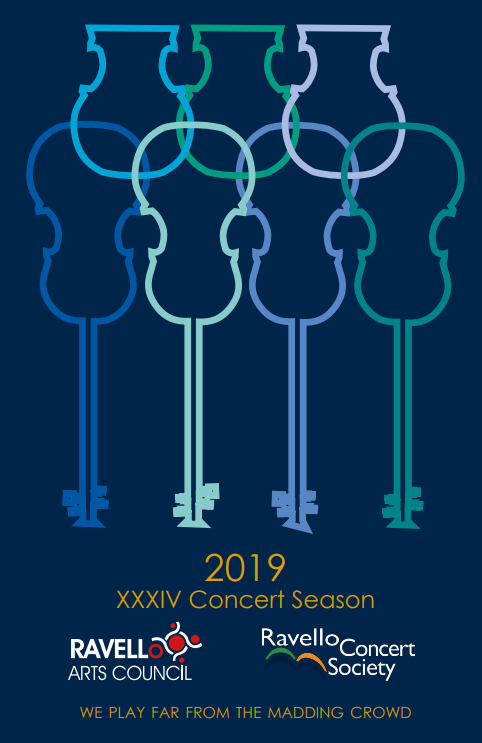 Click to download the most up to date 2019 Season brochure
Ticket€ 30,00