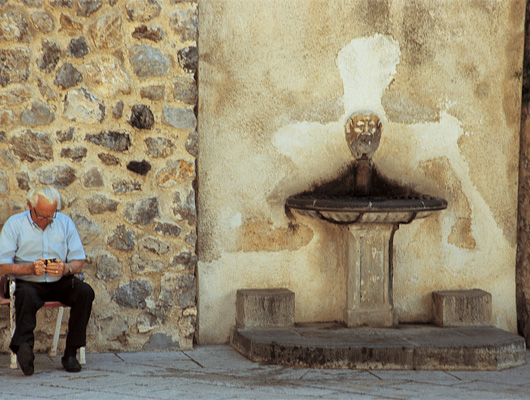 Praiano erbjuder, förutom solen och havet, utflykter till Capri, Grotta Smeraldo, Faraglioni, Ischia, Pompeji/Vesuvius, Sorrento/Herculaneum, Paestum och Neapel.
Du kan också dyka, fotvandra, lyssna på konsert i Ravello, besöka nattklubben Africana eller gå på muséer. Från stranden "La Praia", alldeles nedanför hotell Onda Verde, gör privata fiskebåtar utflykter, dagtid såväl som nattetid, med strandhugg på fascinerande små stränder där solen alltid skiner . Du kan också själv hyra båtar av alla de slag; roddbåtar, motorbåtar, kanoter, trampbåtar, flottar och racerbåtar.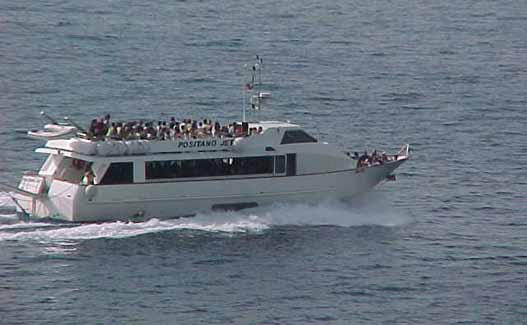 Bland alla de utflykter du har att välja på när du är på Amalfikusten, så är nog resan till Capri den vackraste - som en dröm som går i uppfyllelse. Efter en frukost i lugn och ro i den tidiga morgonsolen på din terrass, går du ombord på Positano Jet som lägger till vid piren nedanför hotellet. Denna kryssning, som går varje dag, ger dig möjlighet att njuta av den underbara Amalfikusten i en bekväm båt.
Festival vid Villa Rufolo i Ravello
Alltsedan 1953 äger varje år en prestigefylld musikfestival rum i trädgården till Villa Rufolo i Ravello – det Ravello där Wagner fann sin "Magiska trädgård av Klingsor". Musikfestivalen startar i april och avslutas inte förrän i mitten av november. Bussar går regelbundet från alla hotell längs hela Amalfikusten till denna musikfestival som hålls under stjärnhimlen.
I samarbete med Society Concerts i Ravello erbjuder vi hjälp att reservera biljetter till de berömda kvällskonserterna. Inga extra avgifter tillkommer. För beställning, skicka ett fax till oss på nummer +39 089 81 31049 och ange datum för önskade konserter, namn, typ av kreditkort, kortnummer och utgångsdatum på kortet. All korrespondens sker på engelska.
Among all of the excursions that you could choose to enjoy while visiting the Amalfi Coast, Capri is the most beautiful, a dream which will repeat itself in your reality. After a tranquil breakfast enjoying the early morning sun from our terrace, you will board the ferry at the pier below the hotel. This cruise operates every day with departure at 10.15 a.m from Positano. and is unique in many ways from other Capri trips that you may see. Departing from Praiano with water-taxi you will begin to appreciate the beautiful day in store for you as you enjoy the scenery on the way to your first stop – Positano.
While approaching Positano to pick up more passengers, remember to have your camera ready to take advantage of the unique vantage point that is presented to you. As you enjoy this beautiful view of our colorful city you can marvel at the characteristic pyramids of buildings for which Positano is famous. After a short 10 minute stop, you will disembark Positano for Capri, touring the coast of Sorrentina, past point Campenella (the end of the Gulf of Salerno and the beginning of the Gulf of Naples). After passing point Campenella you will begin to see the city of Sorrento, Mount Vesuvius, Naples and the Faraglioniof Capri.
The next stop is the big harbor of Capri "Marina Grande", where small boats are ready to take those that wish to go to the magnificent Grotto for a treasured experience.
What follows depends on your wishes. During your 6 hours of free time, you may choose a bus or taxi to whisk you to your destination of choice, whether sightseeing, shopping, photography or sunning, it is available to you in this paradise.
Lunch at the beach or in town, visit Anacapri and other sights, shop the world class shops, siesta in the sun, or swim next to the Faraglioni.
Whatever you decide it is all here.
After your lovely day in paradise you will return to the "Marina Grande" for your trip back to the Onda Verde at roughly 6:00 PM. Just in time for a short rest before your satisfying dinner at the Onde Verde.
Ticket fee € 50.00 - every day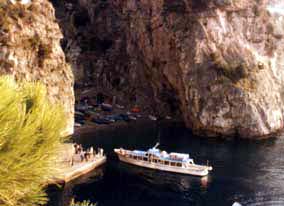 Excursion at Emerald Grotto, swim at Island "Li Galli" and shopping at Positano.
Departs from Praiano at 10.15 a.m. crusing down the beautiful bays of the Amalfi Coast including Furore. Arriving at the Grotto (the entrance is extra) the boat waits outside then leaves again for a wonderful swim in the chrystal sea of "Li Galli" Island, better known as Mermaids Island.
Return at Positano for shopping.
Ticket fee € 40.00 .
Clients from European Union under 18 and over 65 are entitled to free admission to State archaeological sites and museums upon production of a valid identity document.
Pick-up from the hotel at 7:30 AM - Monday - Wednesday - Friday -
Price per person: € 70.00
No holiday on the the Amalfi Coast would be complete without a trip to the evocative island of Capri! Meeting on the Amalfi Pier and departure by steamer for a pleasant sail to Capri. During the crossing, a breathtaking sight of our Coast from Amalfi to Campanella Cape and of the Sorrento Coast will disclose before your eyes. Landing in Capri and start of the guided tour of the island by private minibus, stop at Anacapri for the visit of Villa St Michele, built by the Swedish doctor and writer Axel Munthe on the remains of Roman ruins, offering a wonderful view of the island from its beautiful shady garden. From the Chapel St Michele's terrace, you will enjoy a beautiful view of the sea. Transfer from Anacapri to Capri by private minibus. After lunch (optional), visit to the Garden of Augustus, with a wonderful view of the famous "Faraglioni". The main square Piazza Umberto I, has a pretty white church and several open-air cafes where you can sit and watch the world drift by. Free time for shopping browsing around the elegant and exclusive island boutiques. Optional visit to the Blue Grotto to admire the beautiful colour shades in the water, on the walls and the vault. Transfer by steamer from Capri to Amalfi. Expected return 6.30 pm approx.
- Pick-up from the hotel at 7:30 AM - Tuesday - Thursday - Saturday -
Price per person: € 50,00
Whole day tour: escorted by guide and by deluxe motorcoach.
Pompeii was destroyed by de eruption of Mont Vesuvius in 79 A.D. and buried by a seven meters thick lay of lapilli and ash. The visit to the ruins will give the opportunity to see many artifacts well preserved which still now prove the prosperity of this town in the past. After the visit, optional lunch in a Restaurant and the excursion to the Vesuvius by bus up to 3.000 feet and on foot to the crater for the visit with local authorized guide. A visit to a cameos and corals factory will take place before the return journey.
Pick-up from the Hotel at 7:30 AM every Tuesday.
Price per person: € 50.00
Departure from the Hotel by GT Bus, driving along the untamed beauty of the Amalfi Coast, through the picturesque villages of Conca dei Marini, Furore and Praiano. Photo stop at the famous Belvedere in Positano. Arrival in Sorrento and visit to an inlaid wood-work shop, the typical Sorrentine production. Free time to discover the beauties of Sorrento: In the lanes of the old city centre, still untouched in spite of the progress and mass tourism, have survived churches and ancient monasteries, keepers of valuable memories. Centuries old palaces and Durazzo portals evidence the splendour of the noble families of Sorrento. Via S. Cesareo, the lively "decumanus", is the beating heart of the town, with its many-coloured shops, where tourists from every part of the world crowd. But the real architectonic jewel of the town is the fourteenth century Cloister of San Francesco, with crossed tuff arches of Arabian derivation, where the traditional concerts of the "Estate Musicale Sorrentina" take place. Optional lunch. In the early afternoon departure to Herculaneum, a residential town buried in ashes by the eruption of Vesuvius in 79 a.D. Guided visit to the archaeological excavations. Herculaneum was destroyed along with Pompeii in 79 AD, and was rediscovered in 1709. Il was e residential town without Pompeii's commercial importance, surrounded by the villas of wealthy Romans.Wben the catastrophe of 79 AD occurred, Herculaneum was buried by a torrent of mud that hardened into a soft tufa (a kind of course rock) that preserved many of the wooden parts of houses and household objects which can be seen today. A large portion of old Herculaneum is still buried under the modern town and even today excavations are going on to discover what treasures lie buried under the rock. Return in hotel in the afternoon.
Pick-up from the Hotel at 7:30 AM every Thursday.
Adult Price: € 50.00.
Leave the hotel by coach to Paestum. Visit to the archaeological site: Paestum has been for a thousand years a romantic ruin in the midst of a solemn wilderness. Its Doric temples, hardly surpassed even by those of Athens in noble simplicity and good preservation, produce an incomparable effect of majesty and grandeur. The ancient site is set in a grassy field surrounded by gardens and hills. Although the site is small, it's so charming that you may want to spend time just relaxing here. and to the exceptional museum, that holds finds excavated from the site and around, including a set of archaic period Greek metopes. Here you will find the tomb paintings, one of which, the so-called "Tomb of the Diver", is a graceful and expressively naturalistic piece of work, the only existing example of Greek wall painting in Italy. Return to the hotel in the afternoon.
Pick-up from the Hotel at 6:30 AM every Thursday
Adult price: € 95,00
ROME, one of the most artistic and cultural centre in the world, leaves a deep impression on all who see it. The "Eternal City" blends history, culture, art and romance to create a truly magical atmosphere. A daily trip escorted by expert guides. Departure by de-luxe coach via "Autostrada del sole". Arrival in Rome at 12.30 approx. Free time for a light snack. Visit to the Vatican City with its monumental St. Peter's Square, the masterpiece constructed by Bernini and the imposing Basilica, heart of the Roman Catholic Religion. Discover the city with our specialized guide! Sightseeing tour by coach: Castel St. Angelo, Villa della Farnesina, Sisto Bridge, Tiberin Island, Pyramid, Marcello Theatre, Circus Maximus, Piazza Venezia, Palatine Palace, Campidoglio, Via S. Gregorio, Costantine Arch.
Visit to the Coliseum, the most important monument of the ancient Rome, where bloody battles between gladiators and against ferocious animals were once held. Continuation by coach admiring Santa Maria Maggiore, Republic Square, Via Nazionale, Quirinale Palace and Trevi Fountain where you will have free time for shopping (40 minutes approx). During the journey back dinner in Cassino. Arrival time at the hotel expected for midnight. Rome is so rich and unique in history and so much more – it's no wonder it's the eternal city!
Important notice: In order to be allowed into St. Peter's Basilica you must have covered shoulders & long trouser.
DAY AND TIME AT YOUR CHOICE!
Freedom lovers: people who like exclusive and personalised service, may choose a private excursion made to suit any requirements with an exclusive guide on site. Leave at your ease for an exclusive excursion for the most impressive sites of the region. A private car with chauffer will take you to your chosen destination. Discover it with a specialized guide at your full disposal! Stop over along the coast breathtaking views, photo taking, snacks, all at easy.
Full Day
Campania Region Highlights
Half Day
Campania Region Highlights
Full Day
Amalfi Coast Highlights
Half Day
Amalfi Coast Highlights
Inclusive 1-3 pax
€ 410.00
€ 280.00
€ 310.00
€ 260.00
Inclusive 4-7 pax
€ 440.00
€ 330.00
€ 350.00
€ 280.00
Entrance Fees Not Included - To be paid locally **