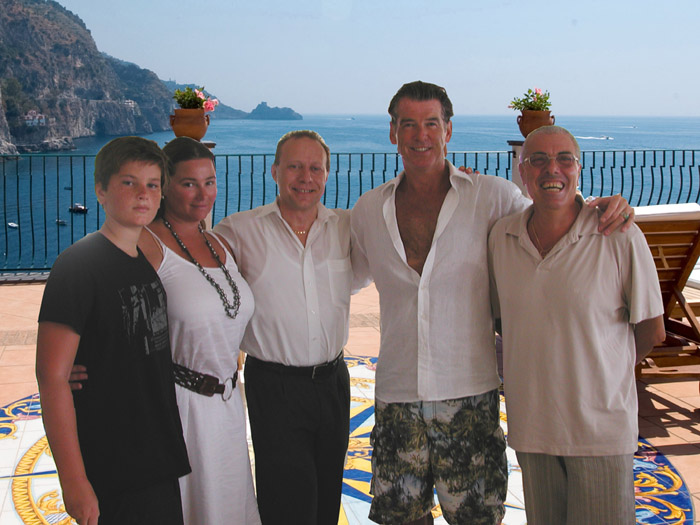 Sent: mercoledì 16 settembre 2009 20.29
Oggetto: Re: Thank you to all the Onda Verde staff
Dear Casimiro.

That was a beautiful day we all had in each others company. My wife Keely and I will never forget the day. It was its own movie. The heat of the sun and your fine refreshments along with your beautiful wife and children, good friend and artist Paolo made the air and sky crackle the memory of you all forever in our hearts.....God willing we will came back some day.

Until then.... health, happiness and good fortune.
Please send Paolo my fond regards. I have not forgotton the photos for him. Please send me his email address. I have it somewhere but cant find it. Too much travel.
Sincerely.

Pierce and Keely Brosnan
From: Donna Mendolia
Sent: lunedì 28 settembre 2009 19.46
A: Hotel Onda Verde
Cc: bmendolia1@aol.com
Big huge smile – me and my mom had an amazing time, it was a dream come true for the both of us – we enjoyed the Hotel and everyone there so very much – we both felt like family – we both said that the Hotel Onda Verde was a little "slice of heaven"- we will always have good memories there and would love to come back and visit – Thank you for the beauty and kindness that we felt – Thank you Miro, Gerarda, Guisseppe, Rafael, Sophia and big kiss to Nicola XOXOXOX

Love and Regards,

Donna
From: joeya58@aol.com [mailto:joeya58@aol.com]
Sent: martedì 29 settembre 2009 1.42
Joseph Antinucci
From: USA
My wife and I felt like we were in paradise. The view from our room was absolutely breathtaking and the staff treated us like royalty. Peppino and Rafaele you were great both with the service you provided as well as the knowledge of the area that you were able to share with us. Only regret my wife had was that she did not take the cooking class with Nicola, but that will be something to look forward to next year. Complimenti to the Milano family.
Modesto Tony Cuomo
Sent: venerdì 9 ottobre 2009 21.32
From: U.S.A.
Contact_Email = moski1128@mac.com
Hotel Onda Verde is a rare gem located on the Amalfi Coast in Praiano. It is a lovely, serene, and magical place nestled on the cliff overlooking the beautiful blue/green Mediterranean Sea.
You could not ask for more - the warm and inviting staff, the impecable service, the beautiful location, and the breathtaking views each morning and evening - it truly takes your breath away. Our room was just what we ordered. From the beautiful hand painted furniture, the colorful ceramic tiles in the room and bathroom, to the balcony which had the most gorgeous view everyday, it was truly magical.
To the wonderful staff at the Onda Verde, we send a special thank you for making our stay at your "home" the most memorable. Miro, the manager, is a gracious, warm and charming host as was his beautiful and gracious wife Hilary, and his dear sister Sofia. Giada, along with Sofia, was always very informative, helpful, genuine and friendly. A real pleasure. Mrs. Milano, Miro's mom, is a very warm and endearing lady. Chief Chef Nicola and second chef Franco, thank you for the tasteful and beautifully prepared food. Every night was a rare treat and we truly enjoyed your cooking as well as your personality. Bravo! And to our special waiters, Raphel and Guiseppi (Pepino), you are both an asset to your profession. Not a day or evening went by when you didn't make us feel very special and welcomed. We thank you for the impecable service and your friendship. We'll miss every morning and evening with both of you.
If you and that "special person" in your life are looking for an inviting, tranquill, romantic place, by all means choose Hotel Onda Verde. We found heaven when we chose this place. The warm and friendly staff, the service, the food and the gorgeous views of the coast line, along with the sunsets, are truly worth the stay. A warm thank you to everyone at Onda Verde for making our trip to your country an unforgettable and enjoyable experience. We'll treasure the memories. We miss all of you and we will definitely return sooner, if not later.
From: David Fagerness
Sent: sabato 17 ottobre 2009 15.15
A: Hotel Onda Verde
Dear Hotel Onda Verde staff:

We have arrived home in Missouri, USA, and received your e-mail. Thank you for thinking of us.
We all had a wonderful time at Hotel Onda Verde. It was even better than we had expected thanks to a wonderful staff and clientele. Every day was special, starting with a warm greeting by Raphael or Guiseppe and Nick, and the crew at the reception desk. We enjoyed seeing the other guests each morning and hearing about where they would be spending their day. Then at dinner we would get a report. It was like spending the week with family.
You can be sure that we will return if we are ever planning another trip to the Amalfi Coast. We have been showing photos and raving about Hotel Onda Verde to our friends so maybe you will get other visitors from the Heartland of the U. S.
Many thanks to you all for making our stay very special.
Fondly,
Dave and Nancy Fagerness
From: Norma Bradley [mailto:nbradley5@cox.net]
Sent: giovedì 26 novembre 2009 20.25
Oggetto: Greetings from Oklahoma
Thursday, November 25, 2009
Edmond, Oklahoma, USA
Dear Mr. Milano and friends,
As I count my blessings on this Thanksgiving Day I have all of you in my thoughts. The two weeks that I spent at Onde Verde were my dream fulfilled. It sounds a bit trite but cannot be more true. All the beauty of the Amalfi Coast that I anticipated was surpassed, the relaxation and reflection that I desired was fulfilled and the charm of the Italian people, especially all of you, was the best part of all. Traveling alone was a personal challenge, and at times I was a little overcome. All of you were so supportive and gave me that little push to help me overcome any anxiety. On the evening that I didn't feel well, Gerarda and Giuseppe provided a tray of hot tea to my room and that kindness was so appreciated. And the baked apples, my very favorite food, that Raphaele prepared was a special treat. Raphaele, I have tried but cannot duplicate your superb apples.
I was a little nervous when I arrived at the Naples airport, but there was Beniameno with a sign with my last name. I didn't even have to wait. Please tell him hello for me. Francesco met me on arrival and took my bags to the room for me. Oh, and what a view that room had. I could prop against the bed board and look right out at the bright blue bay of Salerno and the fishing boats bobbing about in the breeze. My thanks again to JoAnna for providing an immaculately clean and fresh room.
The trip to Capri was one of the highlights of the visit and I read the book "The Story of San Michele" as soon as I came home as it made me feel a little like I was still there. I received an email from Gwen and Bob, two wonderful people that I met at Onde Verde, who sent me some pictures, one of my terrified ride up the chair lift at AnaCapri. Heights make me uneasy but I did it!
I have shown my pictures to everyone at work and they agreed that I had been to paradise. Several people are now thinking about going to Italy when they had not previously done so.
I miss all of you and will be returning to Onde Verde as soon as I can.
My Sincerest Thanks to all of you, Norma
Sent:
mercoledì 16 dicembre 2009 6.41
Ray Richards
From: Canada
Contact_Email = rrichards6332@shaw.ca
In Sept '09 my wife and I spent a most enjoyable week at Hotel Onda Verde taking day trips to beautiful places. The staff are excellent and we thoroughly enjoyed the food. The pictures you see on their web site what you actually see. We did not rent a car and never wanted one. It was my 80th birthday so the elevator was welcomed. Recommended to all.
From: bts@online.de [mailto:bts@online.de]
Sent: venerdì 2 ottobre 2009 14.40
Dr. Thorlef Spickschen
From: Germany
Cara famiglia Milano,
wir wollen uns bedanken für eine herrliche Woche im ONDA VERDE. Wir wurden verwöhnt und haben die familiaere Atmosphaere besonders genossen. Der Service war hervorragend!
ONDA VERDE ist der richtige Platz, um die Amalfikueste zu geniessen!
Herzlichen Dank und hoffentlich bald ein da capo.

Thorlef und Brigitte Spickschen
From: cstroud@ou.edu [mailto:cstroud@ou.edu]
Sent: giovedì 24 settembre 2009 10.51
Clarke and Robin Stroud
From: USA
Contact_Email = cstroud@ou.edu
We stayed at Hotel Onda Verde in June and loved our experience! We had been there once before almost ten years before and it surpassed our expectations again. The food was marvelous and the staff wonderful. Hotel Onda Verde is the center stone in the beautiful Amalfi Coast setting. A must for those looking for romance! Thanks to everyone at Hotel Onda Verde (Miro, Hilave, Pepino, Rafaele, Gherarda, Nicola... everyone!).
Clarke and Robin Stroud
Da: andrea.fuller@yahoo.com [mailto:andrea.fuller@yahoo.com]
Sent: martedì 15 settembre 2009 22.24
Andrea Putignano
From: USA
Contact_Email = andrea.fuller@yahoo.com
Sophia and Casimiro:
We have just arrived back from our trip to Italy and have been sharing with everyone about our glorious week at the Onda Verde. We miss our room,the beach, Nicolas cooking and each and every one of you. Thank you for exceeding our expectations in every aspect of your hotel. We are already planning our return visit. Hope all is well with your mom.
Thanks again, big kisses to all.
Andrea and John
Sent: martedì 8 settembre 2009 2.24
Karen Fuller
From: Canada
Contact_Email =
tkfuller@rogers.com
Thank you Hotel Onda Verde for rescuing us from our villa rental disaster. We enjoyed every minute of our stay with you from the beautiful view, the before-breakfast swims in the sea, the delicious pasta, our private balcony, your friendly and accomodating staff, to the excellent air-conditioning in our rooms. Your hotel has the absolute best location in Praiano. It was wonderful to walk to the beach in two minutes or less....particularly after our gruelling 600 stairs walk from the rental villa we abandoned! Our teenage children were just as enchanted with the hotel as we were and the highlight of the stay for my daughter was meeting Peirce Brosnan in your reception area! We will highly recommend you to our friends in Canada.
Da: Jan Rosenquist [mailto:Jan.Rosenquist@mah.se]
Sent: giovedì 10 settembre 2009 19.29
Dear Mr Milano,

My wife and I want to thank you all for a week at Onda Verdi which we thoroughly enjoyed. We guess that you have heard it before but the atmosphere at your hotel is very special and one that you rarely experience these days. Your staff is friendly, considerate, efficient and we felt always well looked after. It was also good to meet with your two charming teenagers and we hope that your youngest family member has recovered from her illness.
Best regards
Jan Rosenquist
From: felix.iceberg@gmail.com [mailto:felix.iceberg@gmail.com]
Sent: sabato 29 agosto 2009 20.12
Felix & Praline Calitz
From: South Africa
Contact_Email = felix.iceberg@gmail.com
May the Milano family continue to be blessed with all the good fortune for creating a truly wonderful and very, very special place. Simply exceptional! Unforgettable days made possible by real people who celebrate honest living.
Sent: Enza Carrelli [mailto:enza@ecexecutivesearch.com]
Inviato: venerdì 28 agosto 2009 20.11
Dear Mr Milano,
my husband and I have today returned back to the UK after a wonderful holiday in Amalfi.

We both would very much like to thank you and all your staff for the excellent hospitality and experience we have had staying at your hotel Onda Verde.
We both had a great time and we endeavour to be back next year. Please pass onto Nicola and specially Giuseppe our greatest thanks and appreciation for making our holiday so special.
We are now unfortunately back in the rain!!

With Kind Regards
Enza and Elio Carrelli
UK
From: rossdh@shaw.ca [mailto:rossdh@shaw.ca]
Sent: lunedì 24 agosto 2009 7.54
Ross Harriman
From: Canada
Contact_Email = rossdh@shaw.ca
So often the reality does not live up to expectations when planning a vacation through the internet. I am happy to tell everyone that our stay at the Hotel Onda Verde exceeded our expectations. My wife,our sons and my parents could not have had a more enjoyable family holiday on the Amalfi Coast! It truly felt that our family was holidaying with the Milano family. The accomodation, service and meals were first rate. The scenery is outstanding. For these world weary travellers all our needs were taken care of: transport to and from the hotel, tours to Capri and Pompeii, dinners by candlelight overlooking the sea! Public transit is close at hand. The bus rides to Positano and Amalfi are not to be missed. We will be back!
Sent: Saturday 18 July 2009 17.02
Lynn Sams
From: USA
Staying at Hotel Onda Verde was a charming experience for my mother and I. Our room opened up to the beautiful views you see on the website. The manager and staff anticipated our every need. From the taxis to and from Naples airport to the guided tours to Capri and Pompeii, to the advice about visiting Ravello (a dreamy Shangri-la)--they made everything easy and pleasant.
We are very glad that we chose to stay here rather than in overcrowded Positano. Here we felt closer to the coast and to the people at the nearby beach and the hotel. Dinner in the evenings overlooking the sea was a lovely way to unwind at the end of the day. We say a hearty thank-you to our waiter Pepe and the very patient hotel staff, all of whom worked hard to guarantee that our stay was "perfecto."
Maria Mumby
From: Houston, TX
Sent: Saturday 18 july 2009 0.34
Contact_Email = tmumby@att.net
Buon Giorno -- Milano Family This was our first trip to Italy -- my childhood dream & my 25th Wedding Anniversary present from my husband. I didn't know what to expect. Our journey started in Rome and ended on the Amalfi Coast -- it can't get any better than that!! My family & I fell in love with the Amalfi Coast & Hotel Onda Verde. We loved looking out from our rooms to see the houses on the cliffs overlooking the Mediterrean Sea. You can't beat having your meals overlooking the sea!! Bellismo!! I also fell in love with the "limoncello" & the glass in came in. We enjoyed it so much that we have enlarged pictures of the Amalfi Coast on our walls!! We definitely would recommend this hotel to our family & friends. Next time -- we will stay longer!!

Ciao,
La Familia Mumby
The Amazing Onda Verde!
"

Hotel Onda Verde
Frascati21
Manchester
6 lug 2009
Altre foto
We had a fabulous time at the Onda Verdi Hotel in Praiano.
We took the seven day package which included bed, breakfast, evening meal and trips to Pompeii, Vesuvius, Capri and Ana Capri.
I would thoroughly recommend the Onda Verde, it's a family run Hotel, our room had a terrace with two sun beds the view was absolutely amazing, the waiters Pepe and Raphael along with the Hotel owners are very friendly and helpful. The food is delicious and the chef makes hearty soups, and great pasta.
The family bought part of a mountain in the 1950's which over the years eventually became the Onda Verde, they have photos at reception showing the mountain in the 1950's.

The local buses stop just outside the hotel, so you can easily visit Positano, Amalfi, Ravello, and many more places along this beautiful coast line. What was great was coming back to the hotel after a long day out sight seeing you can relax and look forward to dinning in the Onda Verdi restaurant, eating a delicious meal and watching the sun set over the sea.
You can walk from the Onda Verde down to a sheltered cove which has a pebble beach where the locals frequent, you can have a swim in the sea or a drink at a local bar in the bay and watch the world go by.

The good thing is with the package we were met at Naples Airport by the Onda Verde taxi driver, and then when we were leaving they had a taxi waiting to take us to Naples Station where we caught the train to Rome for the rest of our holiday. The Onda Verde staff were so efficient.

If I had to pick one thing as a wish list it would be that the Onda Verde had a swimming pool, but they have a great sunbathing area which has a shower where you can cool down from the heat of the sun, however, you can have a swim in the sea which is five minutes away. The good news is that the Onda Verde are planning on having a swimming pool which I am sure will eventually lead to another well deserved star.
Data del soggiorno giugno 2009
"We can't wait to return for another magical stay!"
Hotel Onda Verde
Dr_Green_Eyes
Reading
23 giu 2009
We enjoyed every moment of our 3 night stay in Hotel Onda Verde. It was a pre-wedding (bachelorette/hen) trip for myself and my two bridesmaids. We were very impressed and can't wait to go back with our boyfriends/husbands! The hotel has a superb location within Praiano, in a quiet area, with terraces sweeping down to the sea. There are several terraces with unparalleled sea views where you can relax and sunbathe. The rooms also have their own balconies where you can catch the rays in complete privacy. The rooms are immaculately clean, very comfortable, well-proportioned and fully equipped with every convenience you might need. Not only does the restaurant have the most spectacular panoramic views across the sea, it also has delicious food and adorable staff! Our sincere thanks to chef Nicola and waiters Raffaele and Pepe for making our dining experiences so enjoyable! Thanks also to Miro and the Milano family for making us feel so welcome. Their homemade lemoncello is undoubtedly the best on the Amalfi coast so be sure to try it! Many of the locals we spoke to said that Hotel Onda Verde was by far the best hotel in Praiano. We wholeheartedly agree! We can't wait to return for another magical stay.
Data del soggiorno maggio 2009
"A lovely place to stay in the Amalfi Coast"
Hotel Onda Verde
trigirlLouisiana
Louisiana
22 giu 2009
I was traveling alone for the first time to the Amalfi Coast, so choosing the perfect accomodations for me was very important. I found the perfect, quaint, quiet, family run hotel....Hotel Onda Verde! It was everything I thought it would be, and more! The views out of my bedroom window were spectacular. My room was extremely comfortable and immaculately clean. The bathroom was beautifully done with the regions beautiful Italian tile. The food at the hotel was wonderful and again, the views from the outside dining terrace were incredible. It was a short walk down to the beach which also had some wonderful restaurants. The excursions I made to nearby points of interest as to Capri and Pompeii were conveniently set up by the staff at the hotel. I prefererred staying in the quaint little fishing village of Praiano far better than nearby Positano or Amalfi, however these towns are great day trips. If you are looking for a quiet, quaint, smaller hotel nestled on the mountain side down by the water with spectacular views, but yet close to many other points of interest......Hotel Onda Verde is the place for you!!!!
Da: Donna Blossman
Sent: domenica 21 giugno 2009 21.02
A: Hotel Onda Verde
I had a very long, but good and safe trip back to Louisiana. Thank you from the bottom of my heart for my wonderful stay in your lovely hotel. It was everything I thought it would be and more! The Amalfi Coast is just breath takingly beautiful! To wake up every morning to those views just right outside my bedroom window, was spectacular. I will never forget my stay there! I will certainly right spectacular reviews about your hotel on your website!!!! I hope to return someday...but I will definitely bring with me a very dear "significant other", as it is way too romantic of a place to visit alone!

My best regards to everyone back at Hotel Onda Verde!!!!!

Sincereley,

Donna Blossman
Sent:
lunedì 1 giugno 2009 20.41
M&T Frumovitch
From: Canada
Special_Remarks = We spent the most wonderful week at Onda Verde, the vertical living in it's best!
We enjoyed our stay there very much in any way. The food, the room, the reception, the view, the trips to Capri and Pompeii, all deserves only best marks .
The staff at Hotel Onde Verde were all friendly and supportive , always had time to answer our questions.
Thanks for the opportunity to experience the georgeous beauty of the Amalfi Coast
Da: ciaojoy@juno.com [mailto:ciaojoy@juno.com]
Inviato: venerdì 15 maggio 2009 16.04
A: info@hotelondaverde.com
Oggetto: visit
Dear Miro and everyone at Onda Verde,

Once again, the stay at your hotel was marvelous. Doug really enjoyed the scenery and especially the food! I told you that I would gain weight!! We both were so glad to be around all of you wonderful people and to spend some time with you. Being with all of you makes the visit even more enjoyable.

Thank you for everything special that you did for us, especially for the beautiful cake to help us celebrate our "almost New" marriage. (08/08/08)

We wish you all health, happiness, and a prosperous season.

Until we meet again....
Joy
From : bfroese@cogeco.ca [mailto:bfroese@cogeco.ca]
Sent: mercoledì 14 gennaio 2009 15.56
A: reservations@ondaverde.it
BEN AND JANICE FROESE
From: ONTARIO, CANADA
As recent guests at the hotel onda verde (sept 27 - oct 4/08) we can not thank you enough for one of the best holidays we have ever had. The food and the VIEWS! BREATHTAKING! after we left your hotel we spent two weeks in the south of france but the stay at your hotel was the most enjoyable by far.
THANK YOU AGAIN and hope to see you soon in the future.
SINCERELY JANICE AND BEN FROESE