LA COSTIERA AMALFITANA ...un cocktail insuperabile di bellezze naturali...
This spectacular coastline which embraces the charming resort towns of Positano, Praiano, Amalfi and Ravello, where the narrow road laces its way around precipices defying gravity and which provides us with one of the most beautiful scenic drives in the world, invites us to imagine ourselves back in the sunny carefree days of the sixties - for here the beauty and romance of those times has not changed.
The people here have a strong affinity with their beloved coast and they have perfected the art of living: they are part of the elements surrounding them - and they salute their good fortune in a timelessness which is nurtured by infinite vistas of unchanged beauty. Life here still revolves around the sun and sea, the enjoyment of simple pleasures - and immediately calls to mind those heady days of wine and roses when carefree summers rolled on endlessly. Driving along the coast, past the green terraces of grapevines, the groves of lemon and olive trees which sweep down the slopes to the clear blue water below, you are presented with a panorama of breathtaking beauty.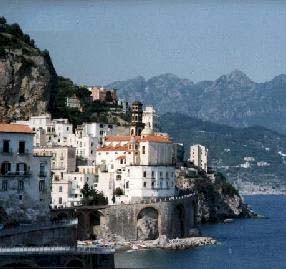 Houses and hotels are perched in spectacular locations to capture the magnificent views. The soft greens of hills and valleys, the azure sea and sky, and the warm, faded yellow-pink buildings all meld together in this palette of seductive colour. In small villages the air is heavy with the scent of roses and carnations. As you walk along the narrow, paved streets, the pink flowers of the oleanders hang over crumbling stone walls - and the effect is one of mellow beauty. Completely and utterly charming in its simplicity.
Taken in Positano, where you can see the church's dome and bougainville, which covered almost every roof, house and wall of the village
HOTELS AN DER AMALFI KÜSTE
Hotels in Ravello
Scarpariello Residence
Tel. / Fax. +39.089.872373

Hotel Rufolo
Tel. +39.089.857133
Fax. +39.089.857935

Hotel Ristorante Garden
Tel. +39.089.857226
Fax. +39.089.858110

Hotel Graal
Tel. +39.089.857222
Fax. +39.089.857551

Hotel Toro
Tel. / Fax. +39.089.857211

Hotel San Michele
Tel. / Fax. +39.089.872237

Hotel Villa Cimbrone
Tel. +39.089.857459
Fax +39.089.857777

Hotels In Positano
Hotels in Positano - 5 stelle * * * * *
Hotel Covo dei Saraceni
Via Regina Giovanna, 5 - 84017 Positano
Tel. +39 089 875 400
Fax. +39 089 875 878
Hotel Le Sirenuse
Via C. Colombo, 30 - 84017 Positano
Tel. +39 089 875066
Fax. +39 089 811798
Hotel Le Agavi
Via G. Marconi - 84017 Positano
Tel. +39 089 855733
Fax. +39 089 875965
Hotel San Pietro
Via Laurito - 84017 Positano
Tel. +39 089 875455
Fax. +39 089811449
Hotels in Positano - 4 stelle * * * *
Hotel Buca di Bacco
Via Rampa Teglia, 4 - 84017 - Positano
Tel. +39 089-875699
Fax. +39 089-875731
Hotel Eden Roc Suite
Via G. Marconi, 110 - 84017 - Positano
Tel. +39 089 875 844
Fax. +39 089 875 552
Hotel L'Ancora
Via C. Colombo - 84017 Positano
Tel. +39 089 875 318 / +39 089 811 537
Fax. +39 089 811 784
Hotel Marincanto
Via C.Colombo, 36 - 84017 - Positano
Tel. +39 089 875 130
Fax. +39 089 875 153
Hotel Miramare
Via Trara Genoino - 84017 Positano
Tel. +39 089 875 002 Fax. +39 089 875 219
Hotel Palazzo Murat
Via dei Mulini, 23 - 84017 - Positano
Tel. +39 089 875 177
Fax. +39 089 811 419
Hotel Posa Posa
Via Pasitea 16 - 84017 - Positano
Tel. +39 089 812 2377
Fax. +39 089 812 2089
Hotel Poseidon
Via Pasitea 148 - 84017 - Positano
Tel. +39 089 811 111
Fax. +39 089 875 833
Hotel Punta Regina
Via Pasitea - 84017 - Positano
Tel. +39 089 81.11.11
Fax. +39 089 87.58.33
Hotel Villa Franca
Via Pasitea, 318 - 84017 - Positano
Tel. +39 089 875 655
Fax. +39 089 875 735
Hotel Domina Royal
Via Pasitea, 342 - 84017 - Positano
Hotels in Positano - 3 stelle * * *
Hotel Best Western Pasitea
Via Pasitea, 207 - 84017 Positano
Tel. +39 089 875 500
Fax. +39 089 875 120
Hotel Casa Albertina
Via della Tavolozza, 3 - 84017 Positano
Tel. +39 089 875 143
Fax. +39 089 811 540
Hotel Conca d'Oro
Via Boscariello, 16 - 84017 - Positano
Tel. +39 089 875111
Fax. +39 089 812009
Hotel Montemare
via Pasitea 119 - 84017 Positano
tel +39 089 875 010
Fax. +39 089 811 251
Hotel Pupetto
Via Fornillo, 37 - 84017 Positano
Tel. + 39 089 875 087
Fax. +39 089 811 517
Hotel Savoia
Via C. Colombo, 73 - 84017 Positano
Tel. +39 089 875 003
Fax. +39 089 811 884
Hotel Vittoria
Via Fornillo, 19 - 84017 Positano
Tel + 39 089 875049
Fax. +39 089 811037
Hotel California Residence
Via C. Colombo, 141 - 84017 Positano
Hotel Il Gabbiano
Via Pasitea, 310 - 84107 Positano
Hotels in Positano - 2 stelle * *
Hotel La Reginella
Via Pasitea, 154 - 84017 Positano - Tel. / Fax +39 089 875 324
Hotel Santa Caterina
Via Pasitea, 113 - 84017 Positano - Tel. +39 089 875 019 - Fax +39 089 811 793
Hotel La Bougainville
Via C. Colombo, 25 - 84017 Positano
Hotel Le Sirene - Positano
Spiaggia Laurito, 24 - 84017 Positano
Hotels in Positano - 1 stella *
Hotel Casa Guadagno
Via Fornillo - 84017 Positano
Hotel Maria Luisa
Via Fornillo, 42- 84017 Positano
Villa Verde
Via Pasitea, 338 - 84017 Positano
Villas and Appartments in Positano
Casa Maresca Residence
Via Lepanto - 84017 Positano - Tel. / Fax +39 089 875 679
Villa Nettuno
Viale Pasitea, 208 - 84017 Positano
La Rosa dei Venti
Via Fornillo - 84017 Positano - Tel. +39 089 875 252
Palazzo Talamo
Viale Pasitea, 117 - 84017 Positano - Tel. +39 089 875562
Fax +39 089 8123374
Villa Gabrisa
Via Pasitea, 227 - 84017 Positano - Tel +39 089 811 498
Fax +39 089 811 607
Villa la Tartana
Via Vicolo Vito Savino, 6/8 - 84017 Positano - Tel. +39 089 812 193
Fax +39 089 812 2012
Villa Rosa
Via C. Colombo, 127 - 84017 Positano - Tel. +39 089 811 955
Fax +39 089 812 2761
Barilotto del Nonno
Via Laurito (S.S. 163) - 84017 - Positano
Canneto
Via G. Marconi, 87 - 84017 -Positano
Casa Celeste
Via Fornillo - 84017 - Positano
Casa Cosenza
Via Trara Genoino, 18 - 84017 - Positano
Casa Fioravanti
Via Trara Genoino - 84017 - Positano
Casa Soriano
Viale Pasitea - 84017 - Positano
Casa Teresa
Via Lepanto, 39- 84017 - Positano
Celentano Raffaele
Via Fornillo - 84017 - Positano
Florida Residence
Via Pasitea, 171 - 84017 - Positano
La Caravella
Rampa Teglia - 84017 - Positano
La Fenice
Loc. Chetrara - 84017 - Positano
La Taverna del Leone
S.S. 163 Amalfitana - 84017 - Positano
La Tavolozza
Via C. Colombo - 84017 - Positano
Villa la Quercia
Loc. Nocelle, 5 - 84017 - Positano
Villa Maria Antonietta
Via C. Colombo - 84017 - Positano
Villas and Appartments in Positano
Casa Cuccaro
loc. Nocelle
Via Nocelle - 84017 - Positano
Tel. / Fax. +39 089 875458
La Maliosa d'Arienzo
loc. Arienzo
Via Arienzo 74 - 84017 - Positano
- Tel. / Fax. +39 089 811873
Cell. +39 335 6667712
Bacio del Sole
Via Arco 30 loc. Nocelle - 84017 - Positano
La Mammola
Via Pasitea - 84017 - Positano
Liviezzolo
loc. Montepertuso - 84017 - Positano
Venus Inn
Via Fornillo, 9 - 84017 - Positano
Villa Palumbo
Via Pasitea - 84017 - Positano
Villa Sofia
loc. Nocelle - 84017 - Positano
Hotels in Praiano
Hotel Smeraldo
Tel. +39.089.874002
Fax. +39.089.874589
Hotel Casa Angelina
Tel. +39 089 813 13 33
Fax. +39 089 87 42 66
Grand Hotel Tritone
Tel. +39.089.874333
Fax. +39.089.813024
Hotel Villa Bellavista
Tel. / Fax. +39 089.874054
Hotel Le Sirene
Tel. +39 089.874013
Hotel Continental
Tel. +39 089.874084
Fax. +39 089.874779
Hotel Onda Verde
Tel. +39 089.874143 / +39 089.874125
Fax +39.089.8131049
contatti
Hotel Tramonto d'Oro
Tel. +39 089.874955
Fax. +39 089.874670
Hotels in Amalfi
Hotel Dei Cavalieri
Tel. +39 089.831333
Fax. +39 089.831354
Hotel La Ninfa
Tel. +39 089.831127
Cell. +39. 338.9222258
Hotel L'Antico Convitto
Tel. +39 089.871849
Fax. +39 089.94931159
Villa Lara
Tel. / Fax. +39 089.8736358
Hotel Villa Annalara
Tel. / Fax. +39 089.871147
Cell. +39 339.1600277
Hotel San Michele
Tel. / Fax. +39 089.872237
Hotel Al Pesce d'Oro
Tel. +39 089.831231
Fax. +39 089.831684
Hotel Il Nido
Tel. +39 089.871148
Fax. +39 089.872103
Hotel La Pergola
Tel. +39 089.831088
Fax. +39 089.831088
Hotel Amalfi
Tel. +39 089.872440
Fax. +39 089.872250
Hotel Residence Bellevue
Tel. +39 089.831349
Fax. +39 089.831568

Hotel Residence Del Duca
Tel. +39 089.8736365

Residence Scarpariello
Tel. +39 089.872373
Fax. +39 089.872373
Hotel Dei Cavalieri
Tel. +39 089.831333
Fax. +39 089.831354
Hotel Antica Repubblica
Tel. +39 089.8736310
Fax. +39 089871926
Hotel Villa Felice Relais
Tel. +39 089.831946
Fax. +39 089.832914